Bloated to Body Confident
Bundle
Your step-by-step course to uncover the root cause of your bloat, learn how to beat it and feel comfortable every day
Imagine spending an entire day feeling comfortable, energetic and unfazed about choosing what food to eat.
What if you could feel like that for a whole month? 
Imagine if it was for one year or even longer.
This could be your life…
Waking up ready to embrace the day.
Excited about spending time with your partner, booking your trip overseas or landing the promotion you applied for.
Dressing in whatever outfit you want to wear and feeling confident. 
A life where bloating doesn't hold you back.
Holistic and Effective Bloat Solutions
Bloated to Body Confident takes you through a step-by-step process of identifying, testing and treatments to heal your bloating. With professional advice from me, Rachel Larsson, a qualified and experienced Holistic Gut Health Naturopath and Nutritionist.
With my guidance, you'll find the root cause of what's keeping you unwell. (Even if you've tried it all or been struggling with bloat for years. Or all of your tests have come back "normal".)
Bloated to Body Confident is a proven system combining:
Ready to stop living a mediocre life?
Do you want to quit trying ineffective supplements on a whim?
And feel good about going out again?
Bloated to Body Confident helps you ditch the food restriction and fear.
Get started today to overcome your bloat for good.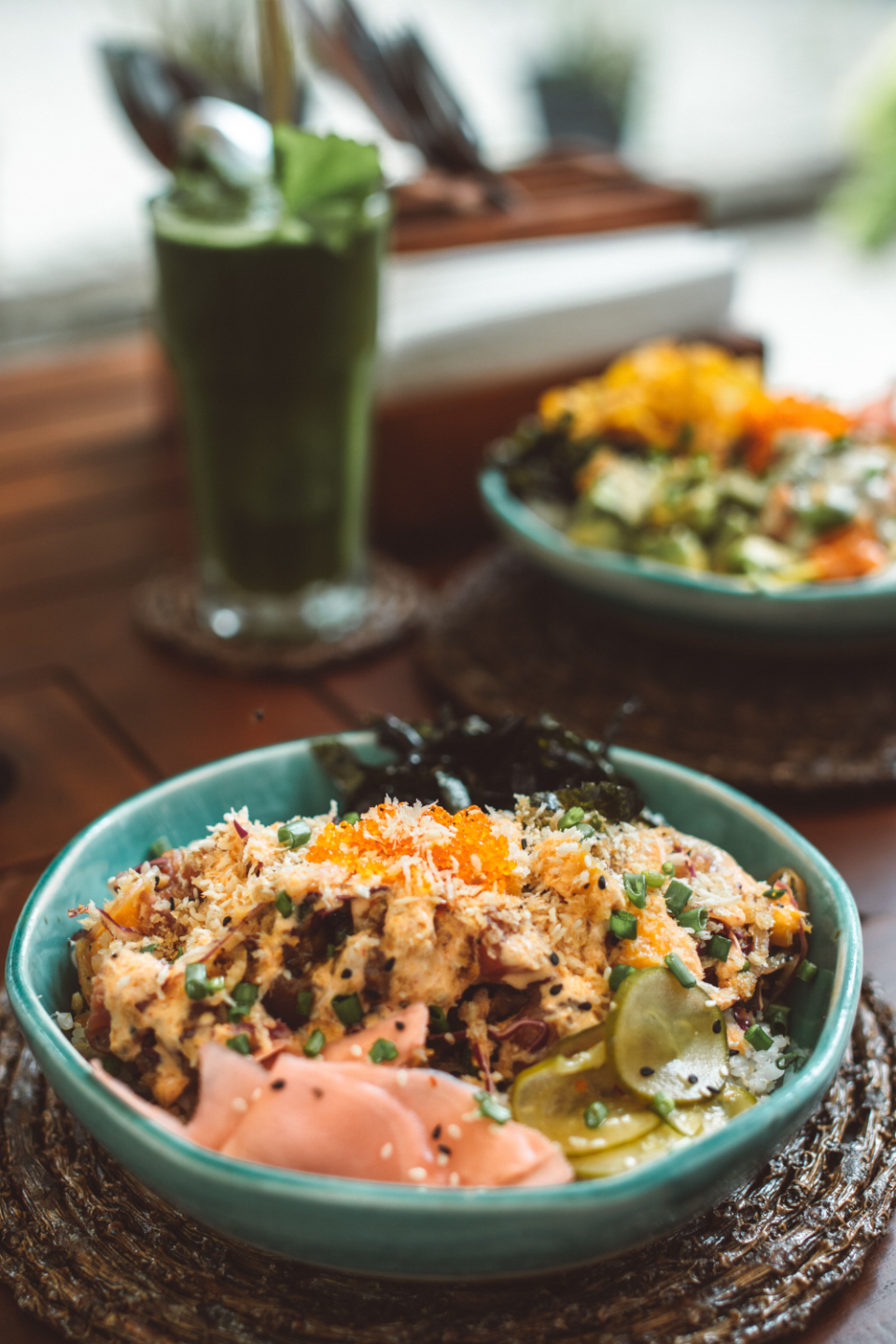 Rachel Larsson
BHSc Naturopathy (distinction) + BPH Nutrition
Hi, I'm Rachel, a holistic gut health expert, Naturopath and Nutritionist obsessed with all things gut health.
I know what it's like to fall through the cracks of the healthcare system. Recovering from my own health struggles taught me that a good practitioner who's aligned with your values is vital to rebuilding your well-being. The right guidance combined with the support of family and friends is all you need to create and sustain positive change.
My mission is to help people like you who are suffering from bloating, food intolerances and anxiety to heal their gut, calm their minds and fall in love with food again. Through my experience working with clients and my own story, I've developed a unique approach to healing by combining:
Gut health

Food as medicine

Functional testing

Evidence-based medicine

Nutritional biochemistry

Mindfulness and connection
Through Bloated to Body Confident I'm able to help people battling bloat to reverse the story that being unwell is just your normal. Using sustainable solutions for you to live your best life (not the mediocre one you feel stuck with right now).
I'm so excited to help you discover freedom in life again!
Trust your gut
Nothing's worse than hearing "Your tests have come back normal" when you know something's wrong.
You're desperate for an answer. So having something, anything, feels like it'd be better than the possibility of being unwell forever.
When medical professionals say "there's nothing more you can do" you feel pissed off and let down. It's like no one understands you or what you're going through.
But I do. And I want you to dare to hope again. Because those tests are just the beginning of finding out the root cause of your bloat.
When people say your tests have come back normal, it's from the perspective of identifying a disease. It's good news that you don't have a more serious condition or illness needing treatment.
What they're not doing is assessing imbalances or dysfunctions in the body - which for most people is the real cause.
You can overcome bloating for good without following a restrictive diet for life.
Once we support the body to correct its dysfunction and imbalances, you'll start tolerating food without bloating or discomfort. Yes, even foods you've struggled with for years!
Your body isn't designed to be reacting this way. So your instinct that something is wrong is absolutely right. There's a reason it's happening and it can be identified when you look at the body holistically. Which is exactly what you'll do in the Bloated to Body Confident Bundle
Learn what your body's telling you
MODULE 1
Be real with your bloat
You'll learn all about the most common causes of bloating and what might be happening for you.
MODULE 2
How you eat
I'll dig deep into eating styles and the connection between your mind and your gut.
MODULE 3
What you eat
I'll be sharing evidence-based information on what foods your body needs depending on what is causing your bloat, no more guessing!
MODULE 4
What's causing your bloating?
No more googling symptoms all day long and trying to figure out what's causing it, I'll be giving you evidence-based information based on my years of clinical expertise.
MODULE 5
Testing
To test or not to test? I'll be covering everything you need to know and whether your symptoms might be worth testing for.
MODULE 6
Start here treatments
Find practical treatment strategies that you can start here and now. I want you to start feeling great as quickly as possible.
MODULE 1
Food Intolerances and Sensitivities
Learn about FODMAPs, gluten, histamine, salicylates, sulfur and thiols and oxalates.
MODULE 2
Inflammation and Detoxification
Understand gut and bacterial inflammation, liver and gallbladder, bowel motions and the lymphatic system.
MODULE 3
Small Intestinal Dysbiosis
Discover what small intestinal bacterial overgrowth (SIBO) and small intestinal fungal overgrowth (SIFO) are, testing, treatments and how they affect your body.
MODULE 4
Underlying Causes of Bloating
Learn about symptoms, testing and treatments for motility, medications, impaired outflow and digestive insufficiency.
MODULE 5
Leaky Gut
Find out what's really causing leaky gut, tests to consider and key treatments.
MODULE 6
Large Intestinal Dysbiosis
Learn the symptoms and testing options for Large Intestinal Dysbiosis and how to restore and support a healthy microbiome.
What you'll get 
13 modules full of protocols, bloating tips and simple hacks that I use in clinic.

Revisit the content and learn on your terms with lifetime access to the course

Create your own gut-healing, bloat-friendly diet specific to your individual needs thanks to my food intolerance and sensitivity guides

Learn what to look for when choosing an effective supplement and how to dose them based on evidence or clinical based experience to get results (I'm unable to provide product names due to TGA regulations. This information rather than naming products means this course is helpful for people all over the world, not just Aussies.)

Know what tests to order with a comprehensive list of test names and the companies to ask for from a practitioner (Tailored to your country if your are in Australia, UK, Canada, USA, NZ and parts of Europe)

Plus discounts for some of the tests

 Coming in 2024, monthly group coaching sessions over Zoom where you can:  

Bring your test for my expert analysis

Connect with and learn from others going through the same journey as you

Get extra tips and health hacks to help your bloating journey

Ask me any question to get advice specific about your bloating, gut health and lifestyle goals 
Charlotte M.
"I've been getting compliments from my colleagues and family and feel so much happier and more confident.
I have just started seeing Rachel for issues with my gut/bloating and energy. Within 2 weeks, I'm already feeling so much better! My bloating has reduced to nearly nothing and I have lost 6 kgs already. Coming from someone who has put off sorting my gut issues for years and years, I'm so happy I was introduced to Rachel. I'm excited about my happier and healthier future!"
Mathew S.
"Cannot recommend Rachel enough!
After 10 years of gut issues affecting my daily life, I finally found Rachel after many years of no resolve. The minute I met her I felt comfortable and in good hands, she was so easy to talk to and attentive. My digestive problems are now in the past, I feel great and I can enjoy eating a vast and healthy diet again. Thank you again Rachel!!"
Belinda H.
"I highly recommend Rachel to anyone wanting support in reaching their health goals.
Rachel is an exceptional practitioner. She provided me with evidence-based care throughout my health journey. Working within the complex field of gut health, Rachel has shared her comprehensive knowledge and customised my care to suit my needs."
Who's this for?
You're tired of suffering from bloating and feeling lost within the current healthcare system

You find it difficult to know where to begin or where to go next with your bloating

You're ready to understand and learn how to address your bloating from the root cause so you can experience lasting results

You're tired of being in pain, bloated and uncomfortable without understanding why or what has caused it

You're overwhelmed by the huge amount of conflicting health and dietary advice available and don't know where to begin

You're consumed with feelings of fear, anxiety and embarrassment every time you eat

You're frustrated with the amount of time and money you've spent on trial and error supplements and diets without any success

You would love to wear anything you like knowing that by the end of the day, you'll still feel slim, comfortable and confident in your clothes
This is not for you if:
You're not experiencing bloating

You're not ready to put yourself first or make the necessary changes to achieve the health and happiness you deserve

You want instant results and are impatient with your body's healing journey

You're content living with regular pain, discomfort, bloating or irregular bowel motions

You want a single pill to fix your bloating (healing your gut is complex and takes time)
When does the course start and finish?
What can I expect in the course?
I've seen so many practitioners already, will this course tell me anything I don't already know?
My health is complicated, will this work for me?
What's different about this course from everything else I've tried?
Are supplements included in the course?
Does the course include testing?
I'm not in Australia, can I do this course?
Can I do this course if I am trying to conceive, pregnant or breastfeeding?
Inclusions valued at:
Pre-recorded lessons $2000
Gut specific lifestyle advice $500
Mind-gut connection advice  $400
Dietary Guides $350
Supplement Ingredient Advice $500
List of tests to order and companies to request $380
Lifetime access to the course $550
BTBC Bundle is worth $4680
But you get it for only

$1846

 $1346 

(Save $500 if purchased within the next 5 days)
Becki K.
"Every cent is 100% worth it, I recommend her to everyone!
Working with Rachel is honestly life-changing. I first worked with her to help heal my gut a few years ago and I am working with her a second time to help with continued sickness post-covid. Both times she helped me improve my health beyond anything I could ever imagine. Working with Rachel is also an educational journey of learning about your body that has been huge in my personal development."
Sophie V.
"I look forward to continuing to work with Rachel and highly recommend her to anyone else - this is your sign to work with her now!
Rachel is a wonderful practitioner with incredible knowledge and a real ability to translate complex medical information into simple, easy-to-understand language. I've worked with Rachel over the past six months and had a dramatic improvement in my health and wellbeing as a result of her advice and support. She has a warm, empathetic personality that made each consult a breeze from the beginning :) "
Lily A.
"It was such a relief to find Rachel after suffering from debilitating health issues for a long time and not getting the help or guidance I needed.
She understands my individual history, symptoms and feelings regarding my health. I no longer feel hopeless or alone in my healing journey.
With Rachel, I'm comfortable talking through my issues and concerns. Whenever a new concept is introduced, she's able to explain it in a way that's easy to understand and not at all intimidating. Overall, I feel in a better place about my health, having Rachel to help me to address and understand my treatment plan. I look forward to every appointment!"
Samantha H.
"Life should be lived in a happy, healthy, pain-free and energetic manner and Rachel has helped me find that! Couldn't recommend her more highly!
I had been suffering symptoms for years that I thought could be attributed solely to a food allergy or specific ailment. I decided to see Rachel for confirmation of what I thought I had, and her care and assessment in the first session alone blew me away. By taking a holistic approach, she conducted a thorough and detailed assessment of all aspects of my health and helped me realise the clear connection between gut health and mental health. Rachel uses the "food as medicine" approach which I have found such a healthy mentality and approach. I can honestly say I've never felt better! With the support, advice and education Rachel has given me, I feel enlightened to live my life in a much more healthy, energetic, wholesome way…and I now realise that feeling sick and bloated all the time doesn't need to be the norm! Rachel regularly checks in with me, sending great recipes, information and education for a wide variety of health areas, including things I never even considered I needed to improve upon!"